Optimal dental care. Every day.
We don't just look for solutions, we look for the right solutions. Listening to any concerns. Providing exceptional patient care. And using proven technology, techniques and procedures for the best results. For beautiful smiles that last.
Preventative Care
Check-Ups
Good oral hygiene is critical to maintaining dental wellness. At any age, visiting the dentist consistently will help keep teeth and gums healthy and smiles bright. The American Dental Association recommends all patients have teeth cleanings and exams every 6 months. We strongly support that advice!
Regular check-ups allow us to clean and polish your teeth, make sure teeth and gums are healthy, and inspect for cavities or early signs of decay. Also, important developmental assessments are made for growing children so problems are addressed promptly in the least invasive manner. As for adults, these visits allow the doctor to address any concerns or questions about maintaining your very best smile. Individualized treatment plans incorporate restorations for problem areas, but also include cosmetic improvements to achieve the smile you have always dreamed of.
Sealants
We highly encourage the placement of sealants on childrens' permanent molars. They are a protective measure to minimize the development of cavities in young teeth. A brushed-on coating fills in narrow grooves or tiny pits that can accumulate plaque and over time harmful decay.
Cosmetic Services
Today's best practices have developed from significant improvements in dental materials, techniques and technology.  We are thrilled to offer patients this leading-edge care. Amazing enhancements are now possible: you can change the shape, size or contour of certain teeth; brighten the shade of your smile; and fully repair broken, decayed or missing teeth.  Dr. Mettman uses creative artistry and expert clinical skills to dramatically transform your smile and change your life!
Teeth Whitening
Whitening is a popular procedure to make teeth lighter and brighter. We offer two whitening options: in-office, for immediate results, or take-home trays. Our staff is specially trained in the Phillips methods and products. Make an appointment to discuss which option best suits your needs.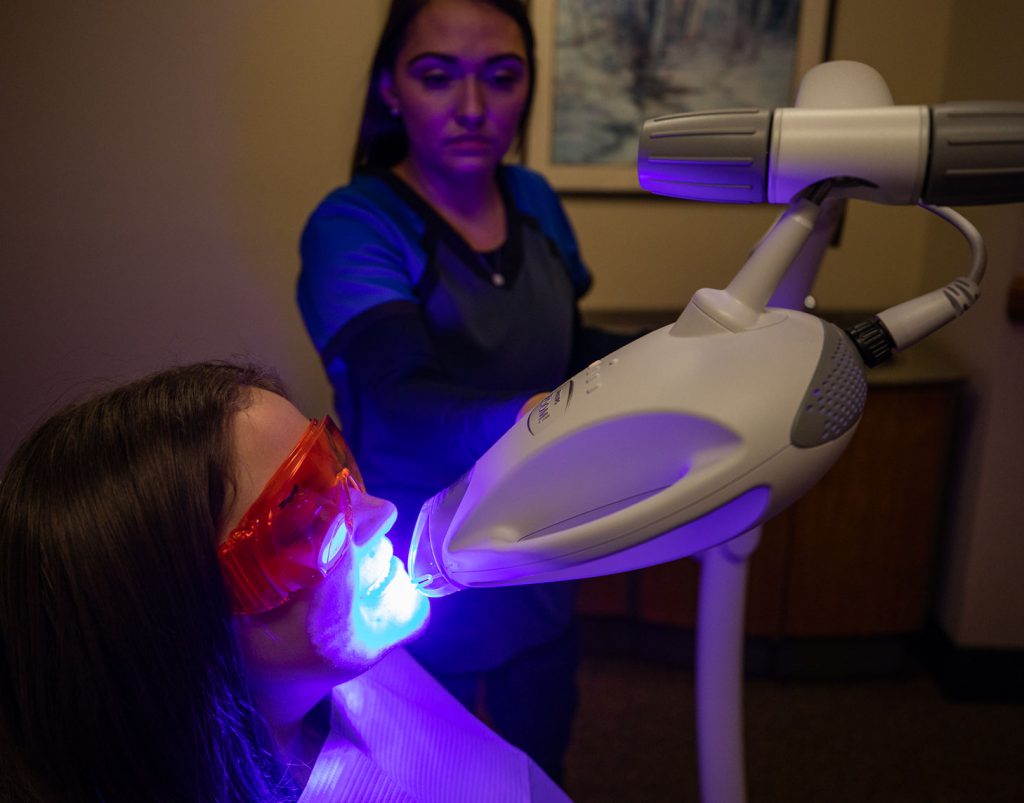 Phillips ZOOM in-office whitening: Want whiter teeth without the wait? This option provides striking shade improvement in just over an hour. ZOOM is a trusted name in safe whitening technology. The perfect choice for busy individuals, or anyone needing immediate results. Though the process is quick, the shade improvement has lasting impact.
Take-home trays: Tray whitening is a convenient and cost-effective treatment used at home to whiten gradually. Many patients achieve optimal shade improvement in only a matter of weeks and then simply maintain with periodic refresh.
Restorative Services
Fillings
Fillings restore teeth damaged by decay or minimal fracture. After decay is removed, the affected area is filled with the type of material best suited to your case. Decisions for choosing composite (white) or amalgam (silver) fillings are based on tooth location, extent of surface involved and cost.
Bonding
Bonding can also repair chipped, discolored or crooked teeth. It can be a restorative alternative to fillings, but also a great option for making significant cosmetic improvements at an affordable cost.
Extractions
While our primary goal is preventative and restorative care, some patients may still need to have a tooth extracted.  The doctor will evaluate the tooth with an X-ray to determine the tooth shape, root position and location in the bone. Some extractions can be accomplished in our office; however, each case is different.  Dr. Mettman may advise referral to an oral surgeon if your safety, optimal comfort and treatment success require attention from a specialist. 
Crowns
Crowns can be used to restore a tooth extensively damaged by decay or fracture. They provide important protection for teeth with weakened structure, and may attach to bridges or cover implants. Crowns also offer a wonderful cosmetic option for improving the appearance of discolored, poorly shaped or misaligned teeth. Our office primarily places crowns made of porcelain, or all ceramic outer layers to perfectly match surrounding teeth.
Bridges
A fixed bridge is an ideal method to fill the space created by missing teeth. They restore function, stability and appearance to an empty area. One or more artificial teeth units are cemented into place using the teeth on either side for support or anchors. Similar to crowns, bridges are primarily made of strong porcelain outer layers fixed to metal bases. Patients enjoy the low maintenance care of a bridge with high esthetic results.
Implants
Dental implants are an ideal solution for people missing one or more teeth as a result of injury, periodontal disease, or any other reason. The implant is a metal (titanium) post positioned into the jaw by a periodontist or oral surgeon specialist. After a period of healing, the patient returns to our office for completion. A crown is placed on the post, restoring full function and lovely appearance to a previously compromised area. While implants are typically more expensive than other methods of tooth replacement, they provide superior benefits. Implants are stronger than natural teeth and can last for decades. They are also a more favorable approach than bridgework since they do not depend on neighboring teeth for support.
Dentures
Dentures are a removable replacement for missing teeth. They are made to closely resemble your natural teeth. Two types of dentures are available, partial and complete.
Partial Dentures are used when some teeth remain. They consist of replacement teeth units attached to a gum-colored plastic and metal base that clasps to existing teeth. A precise fit fills the space, and provides structure to prevent remaining teeth from shifting. Although requiring more care than fixed bridges, removable partials may be the best choice for pleasing aesthetics at an affordable cost.
Complete Dentures restore your smile and mouth function if all teeth have been lost. They are custom created to closely resemble actual teeth. Complete dentures are removable for daily cleaning, and will need adjustments to create an optimal fit. Advancements in implant procedures now offer superb treatment combinations with dentures to guarantee secure fit, better function and natural appearance.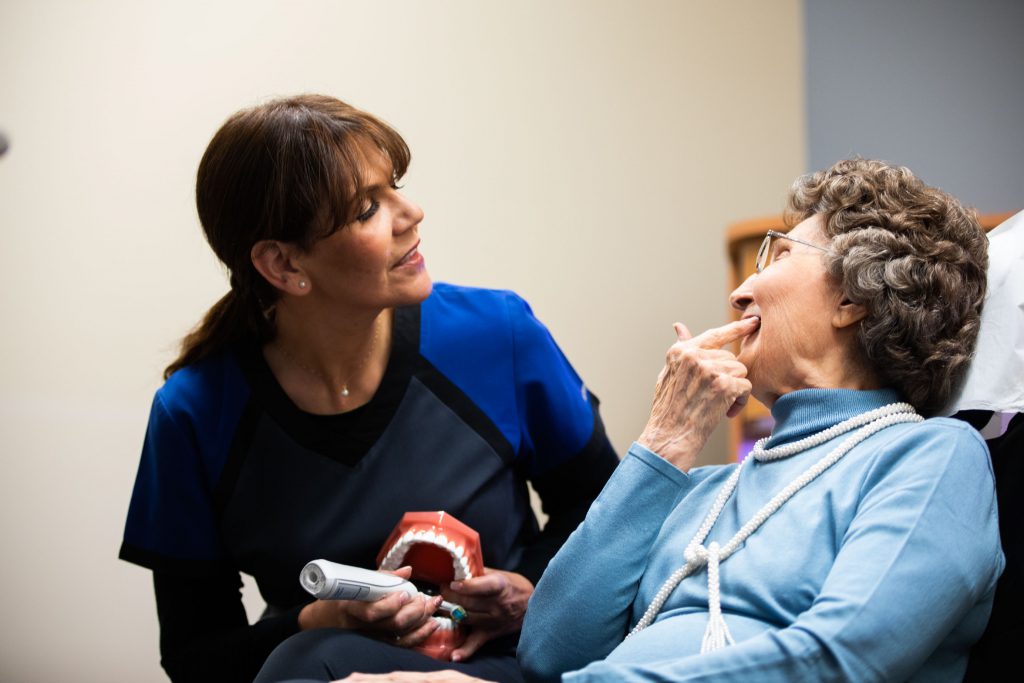 Nitrous Oxide Sedation
We want office visits to be as comfortable as possible and recognize that occasionally patients require additional support to fully relax. Nitrous oxide is available as a commonly used, safe method of sedation that helps patients remain at ease during dental procedures.
Sterilization & Infection Control
Our office takes sterilization and infection control very seriously. Protecting patients from exposure to harmful bacteria or viruses is accomplished by following well-defined office protocol. Treatment rooms and all equipment are meticulously disinfected, and instruments sterilized according to the strict OSHA regulations. We are proud that our custom designed sterilization center demonstrates a commitment to assuring your safety.